During this time of social restrictions we are not able to have regular services in the church building, however the church is very much alive!!! We're posting regular video services on this website, and on our facebook page and youtube channel and our Sunday Service video is published at 9am each week.
On Sundays at 11am, everyone is invited to gather for 'coffee time' on 'Zoom' – you're very welcome to contact us for the usual login details.
To accompany our v
ideo service on Sunday 14th June, you might like to download this jigsaw activity to enjoy during, or after the service.
Each week you can download activity sheets for Families at Home and Adults at Home, that tie in to one of the set Bible readings for the week:
14 Jun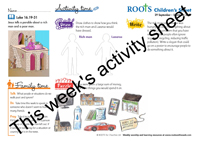 e Families at home sheet
These activity sheets are copyright © ROOTS for Churches Ltd (www.rootsontheweb.com) 2002-2020, and are reproduced with permission.